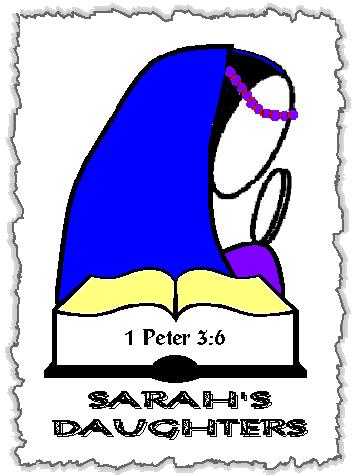 Cynthia's Family
This page includes pictures of Eric's, and my family- our beautiful pets!
Some of the babies below have passed on.. this page is also a tribute to them.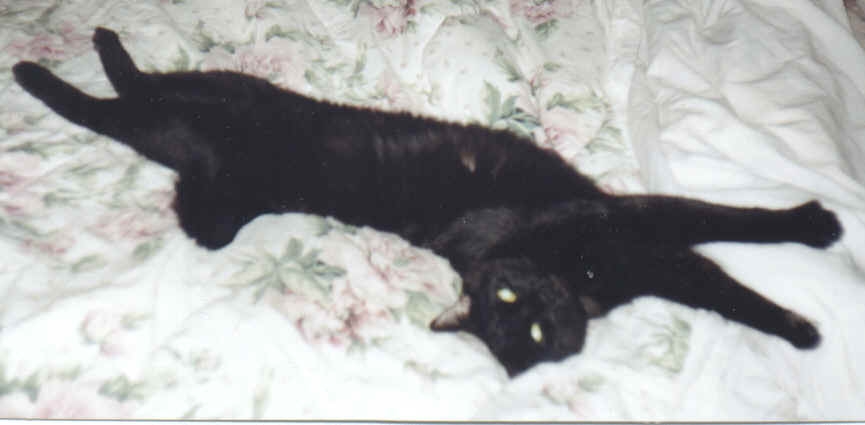 Meet Magic. We met on October 30, 1990 and he has had my heart ever since. This guy was so intelligent and loving, a wonderful daddy to all the others in our home. Also a ham for the camera, as you can see. He is also my miracle kitty. September 24, 2003, on our 5th wedding anniversary, I was told that he wouldn't live more than 12-18 months, because of having cardio myopothy (a condition where his heart is very large, and 1 chamber of his heart was much larger than the others). He lived for over 3 more years, while taking less medication. Truly an answer to my prayers! We lost Magic on January 21, 2007, and our little family will never be the same. He is truly missed, and always will be!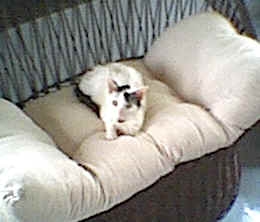 This beauty is Spitfire, Magic's lady for 11 years. He first saw her wandering outside of my first apartment, and every time he saw her, he got so excited. It was obvious he was in love, so naturally I had to adopt her. Little did I know at the time that she was pregnant. We had Spitfire from March 3, 1991 until her death on August 11, 2002. She was an absolute joy to have around, and she certainly helped keep everyone in line! She earned her name well!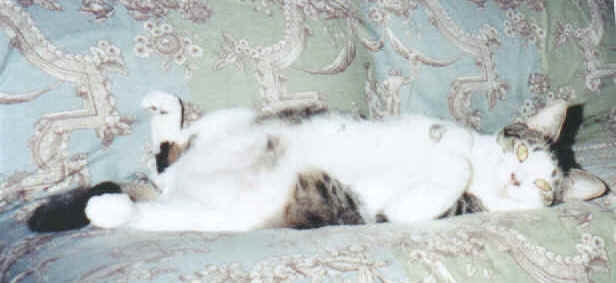 This handsome fellow is Bob, the first born of Spitfire's children born on April 24, 1991, 3 days after my 20th birthday. What a gift! Always a lover, Bob was the first to demand attention from any visitors. He also enjoyed playing fetch with a tiny jingle bell. His death on December 14, 2003 left a large absence in our home and hearts.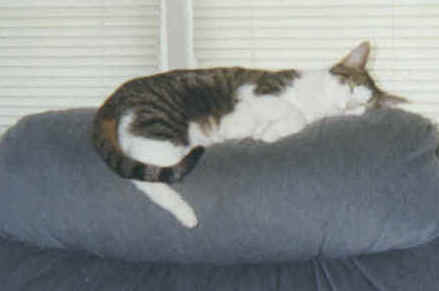 This tired little lady is Fluffy, Bob's sister. A little princess, Fluffy always gave plenty of love in her prissy way. The night before she passed away on February 13, 2004, I believe she knew her time was at hand.. sick as she was, she curled up onto my lap. As I held her, she cuddled closer than she ever had before, as if she was saying goodbye. This sweet little lady is greatly missed.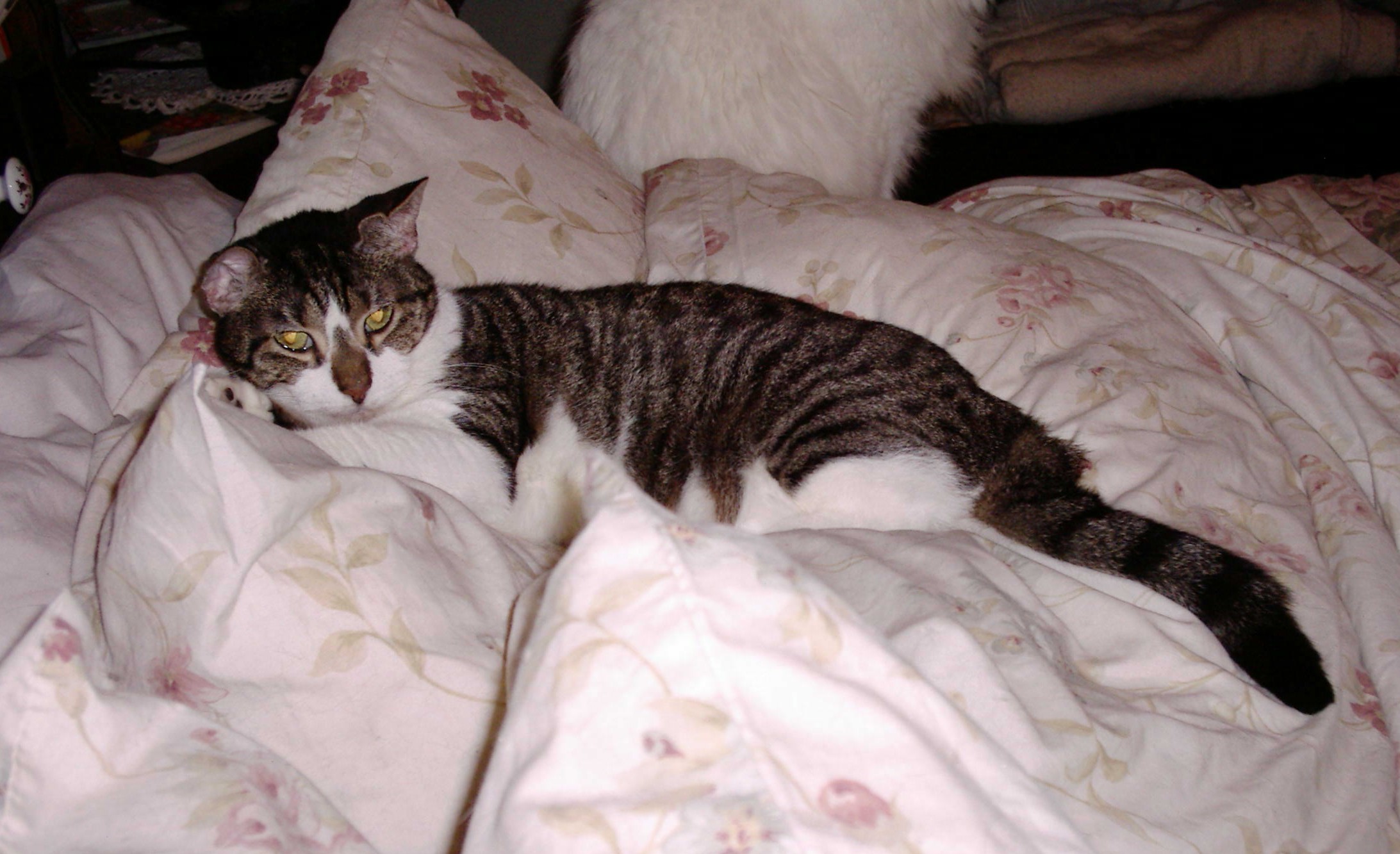 And finally, this is the last of Spitfire's children, Sneezer. I named her such because as a kitten, she frequently made herself sneeze by rubbing her nose along Mama's tummy fur. Sneezer was a spunky, intelligent and very affectionate lady, who took over her mother's role as queen of this castle since her passing. I occasionally called her Spitfire, jr. because of her personality being so much like her mama's. Sneezer passed on August 8, 2009 from lung cancer at age 18. She is greatly missed.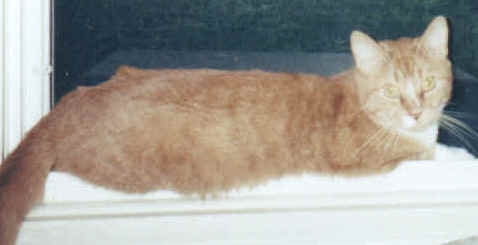 This sweet little guy is Bubba. I was blessed to have him in my life from August 21, 1992- December 11, 2001 when he passed away from emphysema and feline AIDS. He was just a tiny little thing when I got him, only about four weeks old. Bubba was undoubtedly the gentlest, sweetest kitty I have ever known, and he has a very special place in my heart. He will always be Mommy's little freebird.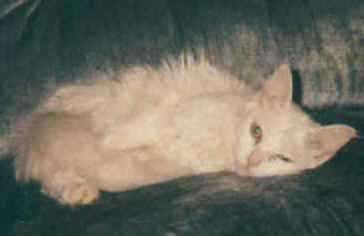 This pretty lady is Poo Kitty. We adopted her on August 31, 1995, and this picture was taken shortly after that day. Isn't she the cutest thing? Poo grew into a beautiful, gentle, loving kitty, who loved to give kisses when asked, especially to her daddy, undoubtedly the love of her life. Poo passed away suddenly from what appeared to be heart problems on August 11, 2010. We miss our furry little girl, but are somewhat comforted knowing she's with her best buddy, Sugar, once again..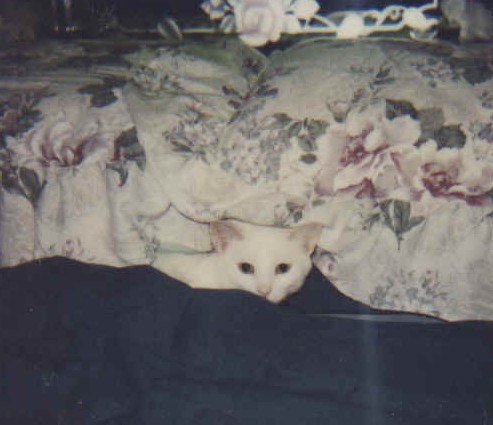 This handsome, silly little guy is Sugar, Poo's best friend. We adopted him on June 6, 1996 as a stray who lived outside our old apartment. He and Poo quickly developed a close friendship, and his death on April 30, 2002 devastated her as well as us. Sugar was always the clown of the family- making us laugh constantly with his goofy antics.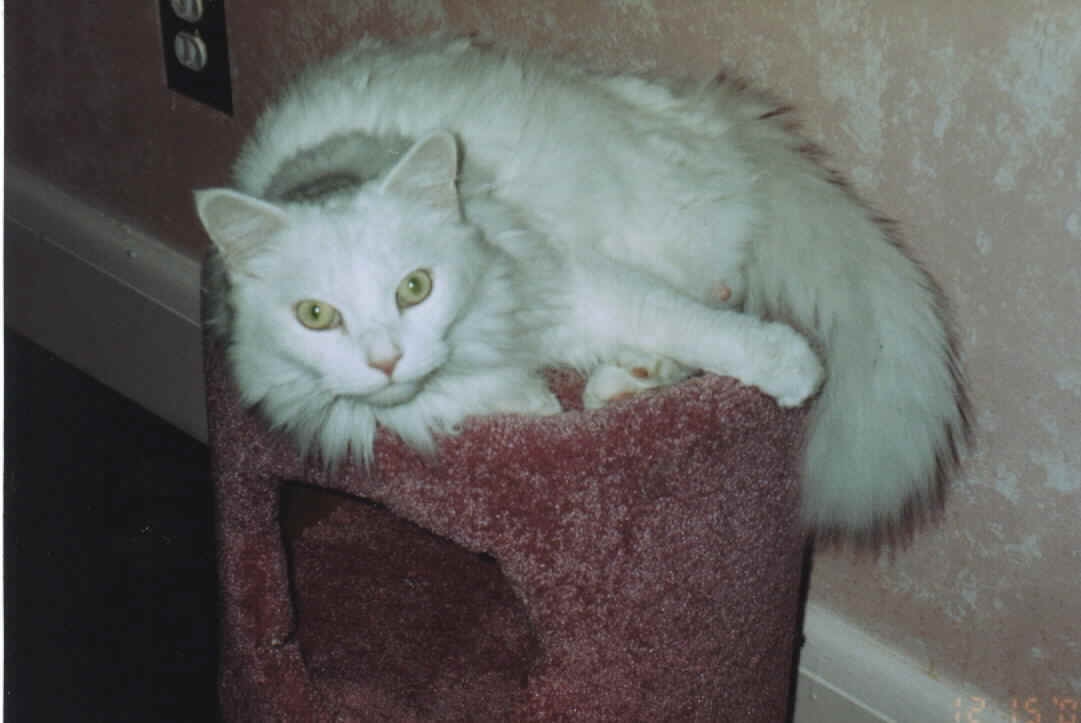 And this beauty is Delta Custom, named after my car under which she was found by my husband. She was a very young little gal at the time, and with only 3 legs, we didn't have the heart to leave her to exist in the wild. September 29, 1997 was the day we finally got this wild kitty into our home. She made herself quite at home with us, and was always an absolute angel. She also had a weakness for whipped cream and cheddar cheese. She has been known to dance around the refrigerator when whipped cream is out. Her passing on December 22, 2006 left a large absence in our lives only our little whipped cream fiend could fill...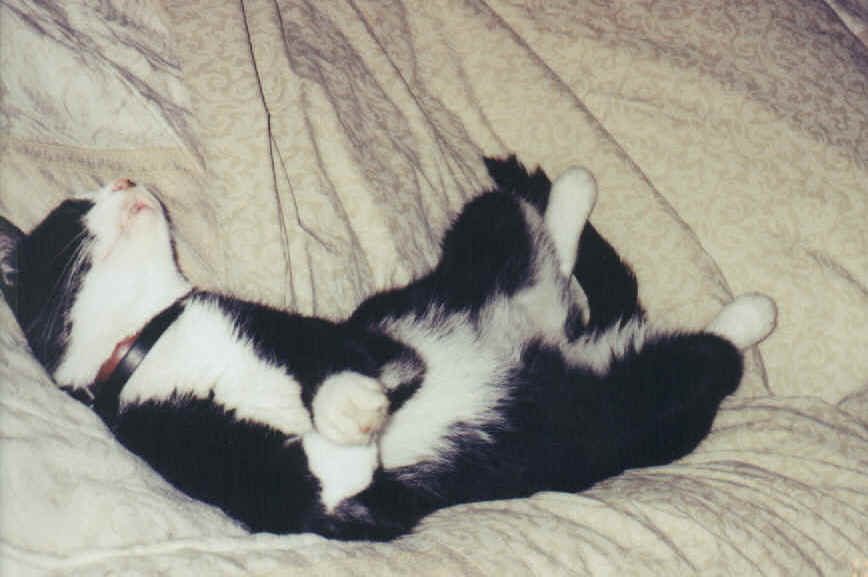 This cutie is Doofus, our big, handsome tuxedo cat. He was also a stray living outside that old apartment. I took him in to give to a friend who changed her mind. Thankfully! October 13, 1999 was that special day for us. Doofus was a big guy, weighing in at about 20 pounds, and was all heart. He passed away unexpectedly on December 16, 2009, and is missed very, very much by every member of our family.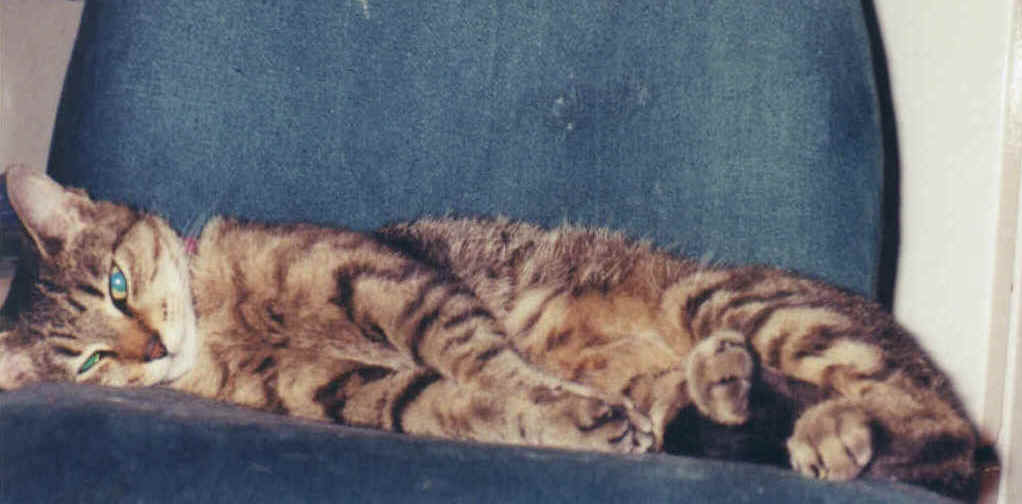 Cute or what?? This is Kitten Kaboodle, Doofus's lady friend. This was one tough gal.. I have seen her whoop a Rottweiler four times her size, and a nasty little ferret! Yet, she was also a gentle, loving little gal with us. Unfortunately, she was stolen from us in December, 2000, but before she left, she gave us a great gift- a litter of three beautiful little girls born February 15, 2000!
Here is Kaboodle's daughter #1, Spanky. She is fun-loving, intelligent and very playful. Spanky never really asks for attention, rather makes it seem as if she is doing you a favor by allowing you to pet her. But, she is sweet as she can be, and always a lot of fun. Very curious and adventurous. When we moved into our home, she was the first to explore every single nook and cranny. She's a bit odd though. This picture was taken when she went through a phase of sitting in the bathtub after someone had recently gotten out of the shower. She passed away from renal failure on October 7, 2010, leaving us without our goofy, beautiful little tabico.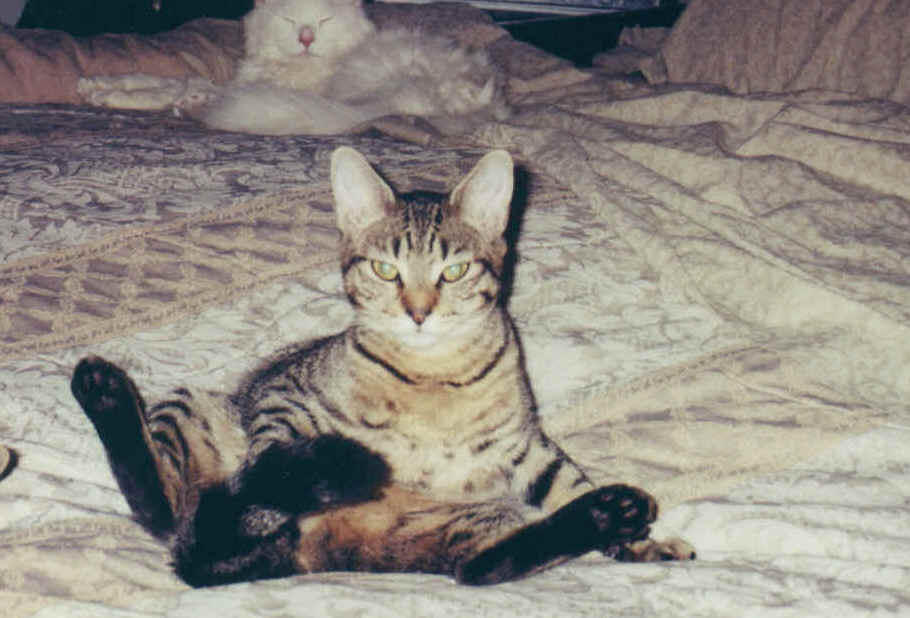 Here is one of Spanky's little sisters, Weeble, named for her fondness of sitting in this position as a kitten (anyone else remember the Weeble Wobbles??) Weeble is a gentle, motherly, and mischievous little lady. Always looking for someone to love or play with, she is also the first to offer love if either my husband or I are feeling sick or upset.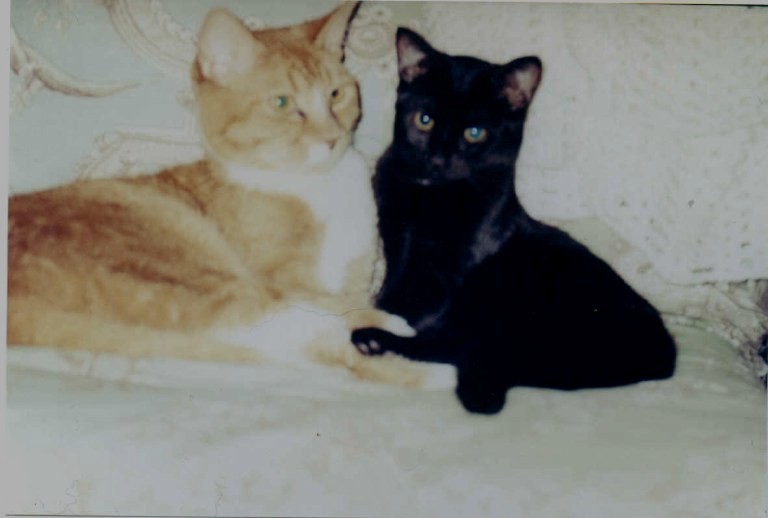 And, the last of Kaboodle's little girls, Squeaky, with her best buddy, Bubba. Squeaky was extremely intelligent and sensitive, and always looking for someone to cuddle, be it human or feline. When Bubba died, this little lady went into a mourning for about nine months. She barely acknowledged anyone during that time- keeping to herself, not playing as usual, and often staying in the basement. It was heartbreaking, but thankfully, she finally reached a healing, and started living again. Also, whenever I asked for a kiss, she would stretch as far as she could towards me so I could kiss the top of her head. It was something she started as a kitten of only a couple weeks old. She passed away suddenly on September 27, 2007, leaving a large void in our lives. The only consolation of that loss is knowing that she is with her best buddy once again...
This cute guy is Curious George, aka Georgie. We adopted him at the young age of only about 4 weeks.. he was born to a stray living in a lady's yard. She was going to have animal control remove the family that week, so rather than let them be taken away, we adopted this cutie and his brother, and raised them ourselves. Georgie has always been extremely curious, ever since our first meeting, which explains his name. He gets into anything he can, including my crochet bag.. But we wouldn't have him any other way- he's our cuddly little guy, who often sleeps on top of me.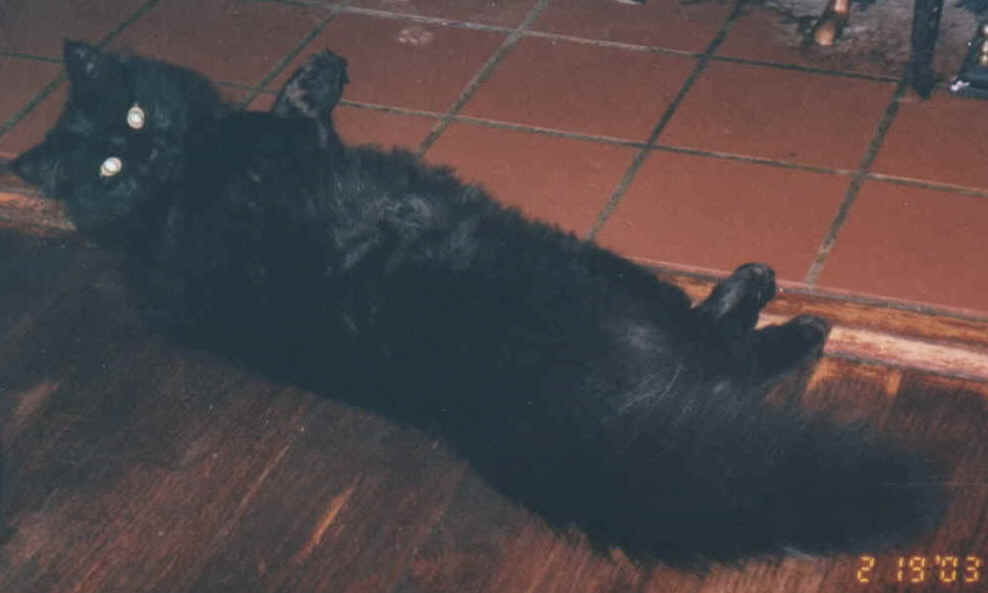 And this is Pretty Boy, Georgie's brother. Gorgeous kitty or what? He loves laying by the fireplace during winter months as he is doing in this picture, lounging on the enclosed porch and chasing the other kitties. He is extremely affectionate and gentle. An absolute treasure.
This adorable mutt is Bear. I gave him to Eric for his birthday in October, 2002. He is part Chow Chow, part black lab and part Chihuahua. Such a good boy who knows that 1 bark means "yes", 2 barks means "no" and 3 barks means "I love you". Isn't he smart?? He loves squeaky toys, car rides and snuggles.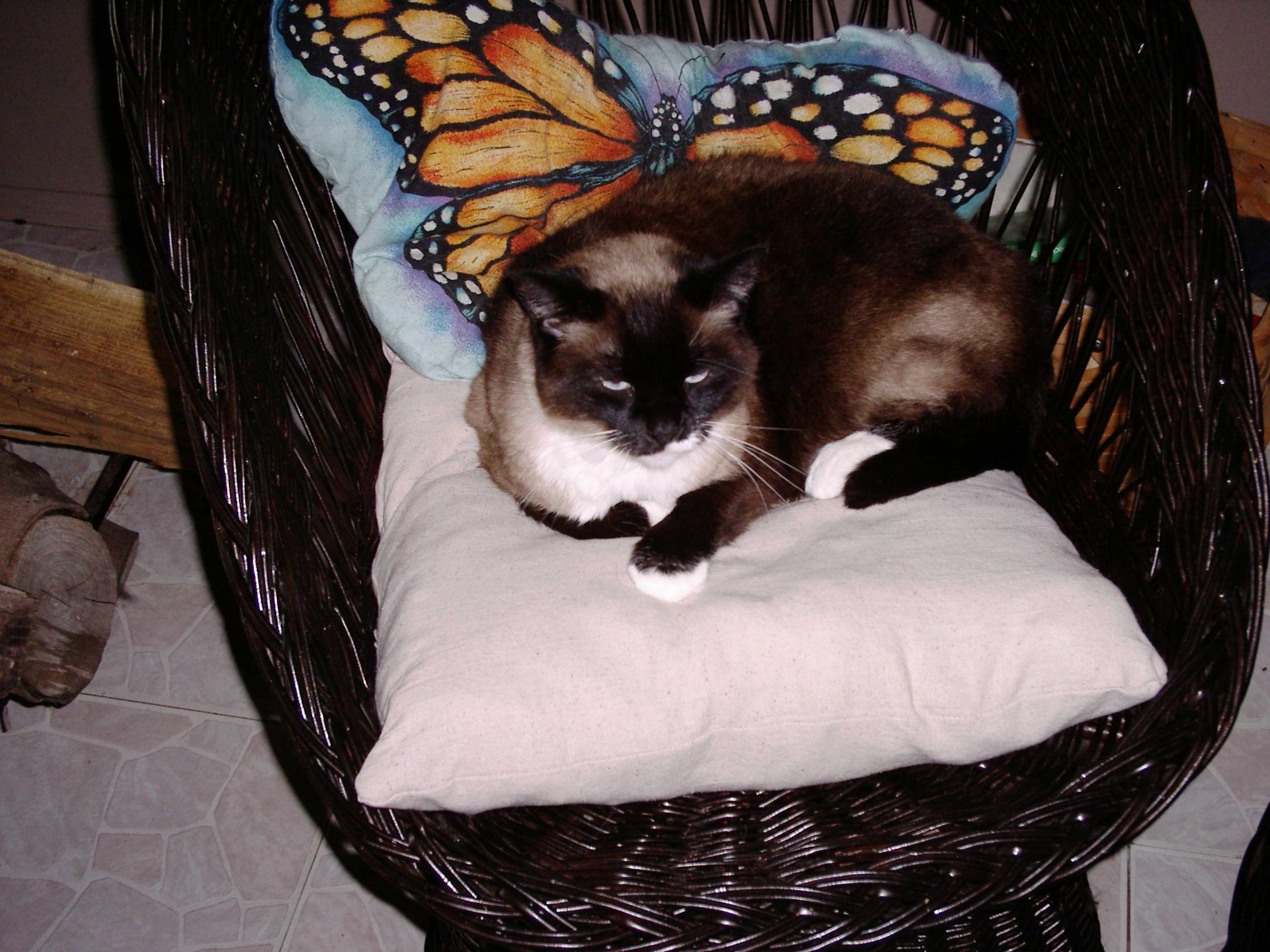 This beautiful, yet grumpy gal is Jasmine. We adopted her on August 8, 2003 after her last owner passed away. She's quite independent, as she's always been an only pet, but she has adjusted well. Her Siamese heritage sure shows! Not only in her colors and lovely blue eyes, but in her personality and talkative nature. She is a very special addition to our home, and we hope her late owner would be glad to know we are spoiling her rotten and adore her!
And this beauty is Miss Dixie, with her trademark hot pink toys. (She loves hot pink anything!) A dear friend of mine who knew we were looking for another dog found an American Eskimo breeder, who had this beautiful little lady up for adoption. She is a fun loving, cuddly little girl who loves to give lots of kisses to anyone she meets, and loves hot pink toys. She seems to think she is part cat, but I guess that is to be expected considering Sneezer and Magic raised her. Dixie also has the ability to charm anyone and everyone she meets, whether they want to be charmed or not... truly a Southern belle! She makes me so proud!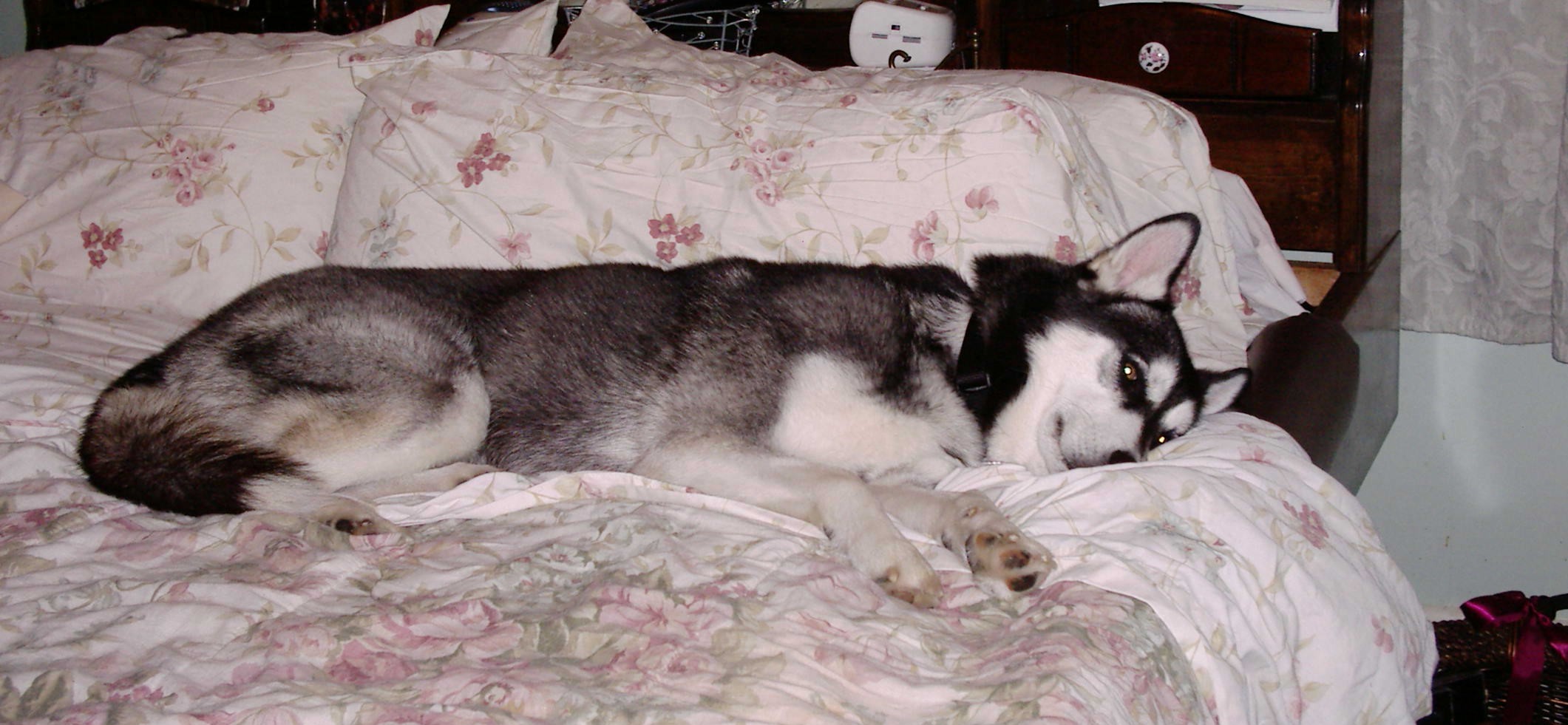 This handsome husky/wolf is Danya. He appeared in our yard one night in January, 2005. We tried to find his owners for over a week, but found they had moved away and left him behind. We decided to adopt him. I named him Danya because I read it means, "gift of God" in Russian.. it seemed fitting for him. He really was a gift- a fun, loving and very protective boy. Upon meeting my dad, he nipped his hand, until I told him that Granddad was ok- don't bite him! He decided I was right, and covered Granddad in kisses every time he saw him after that. Danya passed on March 26,2009. He had been fighting diabetes and related conditions plus a heart defect. Our big goofy husky will always be missed.
This is Tweak, possibly the cutest, sweetest guinea piggy ever, with his buddy, Doofus. Since we adopted Tweak on August 2, 2006, he has charmed every animal in our home, but the dogs in particular. Dixie often covers him in kisses, which he just loves. Poor Doofus also loved him, but seemed confused about this, as he was once a great mouser...sometimes he would look at Tweak as if to say, "I used to eat things like you...why do I like you so much?" How adorable! Tweak passed away on April 10, 2010. We truly miss our silly little piggy!

This little cutie pie is Chester. Where Eric worked in 2008, the property is surrounded by woods, and in those woods are tons of feral kitties. One of his co-workers, bless her heart, works with a trap/neuter/release program, and Chester here was a part of that. He became company pet- the one feral cat who would look for human attention. He won Eric's heart as a teeny kitten, and in about 8 months later on July 12, 2008, we adopted him. That is when he won my heart..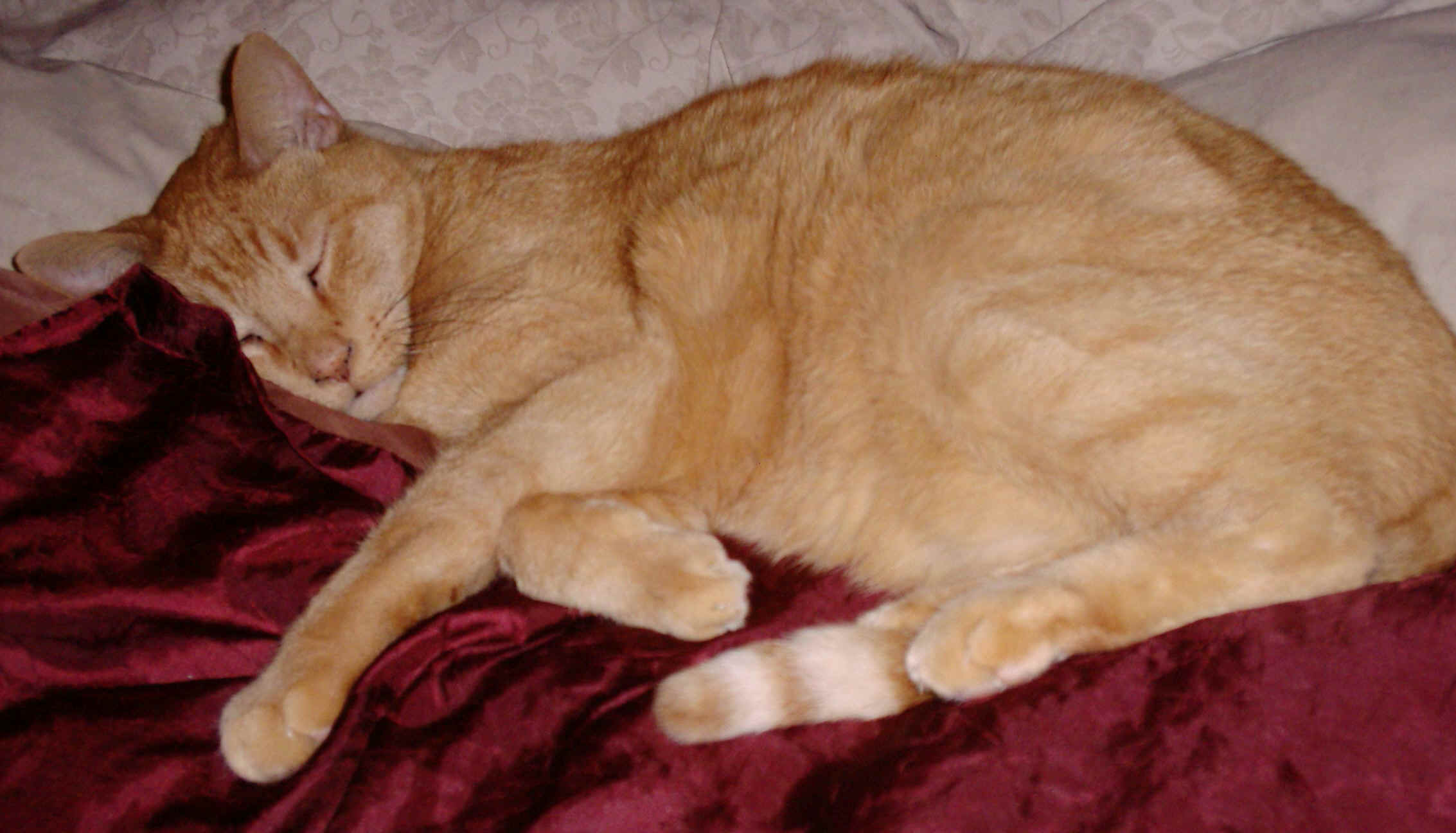 This handsome guy is Vincent. He was my Granddad's cat, and my cousin adopted him after his passing. October 25, 2008, she asked us to watch him for a while while she moved, then later decided to give him to us. We couldn't have asked for a better gift! He is a wonderful guy- funny, intelligent, devoted, and extremely independent. His personality reminds me of Granddad, in fact.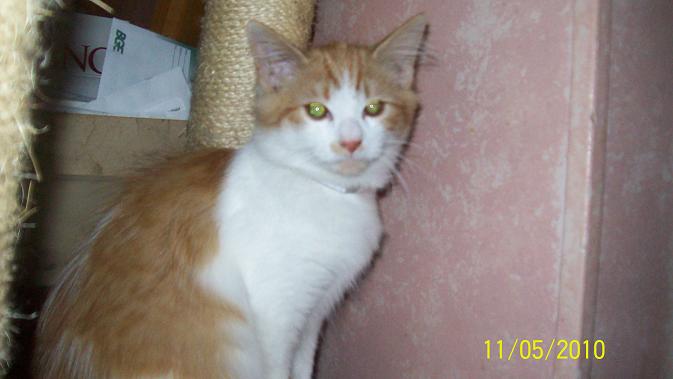 This handsome little man is Bo. Shortly after Spanky's death, I realized that in only 14 months, we lost 4 wonderful cats. It affected all of us, so I decided we needed a kitten. They're such clowns, how could a kitten not brighten up our home? Bo here came from the Anne Arundel County animal control. When I saw that cute little face, I couldn't help but want to bring him home. He's a charmer and as sweet as they come, even though he was a bit grouchy when this picture was taken shortly after his arrival at our home on November 5, 2010. He had just met Bear, and was intimidated by a big dog. Anyway, once I saw him, I realized that in the cage beneath him was his brother, Luke...
Here's Luke. Another charmer and complete love bug. Luke here spent his first night in our home sleeping on my husband's chest. This picture was taken when I found Luke here in the skeleton of the drop ceiling that was once in my basement. Why he likes this spot is beyond me...